About Us
Gail S. Wolaniuk and Joan E. McFadden
Unique Standard Poodles is a family of white Standards established in 1980.
The foundation bitch was CH. Aleput Utterly Unique ( CH. Alekai Zeus daughter).
She was a stunning ice white sound and healthy start to a very strong line of successful and happy standard poodles. Over 75 "Unique" champions have followed. The best known being CH. Unique Opportunity UD, a multiple Best in Show male and CH. Unique Reach For The Rainbow CD,NA,OAJ,NJP,TP, who was Best of Variety and Group 2nd at Westminster in 2001 and Best of Variety at the PCA national the same year. Joan is a member of the Poodle Club of America, former president of the Delaware County KC and served as an AKC delegate for a regional obedience club. Conformation champions have been presented in the ring by Gail. She has professionally handled many breeds for over 30 years, but was always drawn to the Standard poodles as a true passion.
She too is a member of Poodle Club of America, a board member of Delaware County KC and an active participant in obedience and agility.
Together Joan and Gail have bred and shown many champions, including nine Best in Show dogs and many performance titleholders. Several of the "Unique" bitches and stud dogs have gone on to be top producers.
Unique Standard Poodles was founded on Joan's image of creating the best poodle possible for conformation in show, performance or pet, with sound structure, temperament, health and longevity. It was the founding goal and remains to be the Unique family priority. One's treasured pet companion is not only as respected as any of our titled or competitive prospects but also of the same high quality.
After all, our show dogs are our pets!!!!!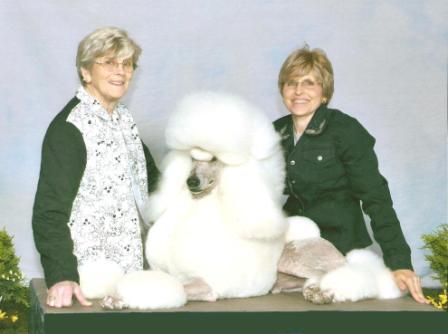 Joan E. McFadden - William - Gail S. Wolaniuk